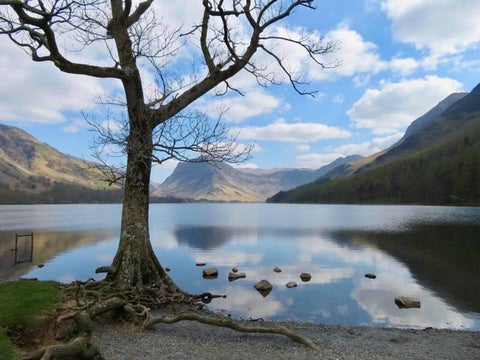 Buttermere 7 Peaks (Henshaws): Sept 2nd
Regular price £0.00 £45.00 Sale

Buttermere - THE prettiest Lake
It's no secret, the Lake District is one of the most beautiful places in England! Filled with epic walks; surrounded by a diverse landscape; ranging from picturesque lakes to craggy fells.
Without doubt the best way to explore this amazing landscape is by foot. To start this epic challenge we rise from beside beautiful Buttermere to ascend the steep climb to the summit of magnificent Red Pike.
We continue until 7 of Wainwright's favourite peaks are bagged, including Haystacks, where he would famously sit beside the tranquil Innominate Tarn pondering life. This the site his ashes were famously spread by his long suffering wife...
Buttermere Lake District 7 Peaks Challenge:
Our trek is accompanied by breath-taking views over Buttermere and Crummock Water one way and out into the Lakeland Fells the other. Finally we drop back down to stroll home along the eastern bank of Buttermere - a scene pictured in films and TV series, including 'The A-Word'
Red Pike      - 755m
High Stile     - 807m
High Crag    - 744m
Hay Stacks   - 597m
Brandreth     - 715m
Grey Knotts  - 697m
Fleetwith Pike - 648m
Distance: 13miles (15.5 miles flat equivalent)
Climb Rate: 128 m/mile
Total Climb: 1660m 
Life begins at the end of your comfort zone!
Buttermere Lake District 4 Peaks Challenge:
For those wanting slightly less distance, why not take on the first 4 peaks, which provide the same epic climb and all the magnificent views over Buttermere.
No need to make a decision in advance. The routes is the same, just reaching a point where you can decide if you'd rather have a slightly earlier visit to the pub!
Red Pike      - 755m
High Stile     - 807m
High Crag    - 744m
Hay Stacks   - 597m

Distance: 8miles (10.5 miles flat equivalent)
Climb Rate: 135m/mile
Total Climb: 1240m 
Accommodation:
To arrange accommodation during your event, please email Laura at laura.wheeler@travelcounsellors.com with the following info:

1. Event & location
2. Dates of the nights you require
3. Single, Double or Twin room
4. Whether you are happy to share a room/property with other members of the group and if you would like to specify that person(s)
We only regret the opportunities we don't take!