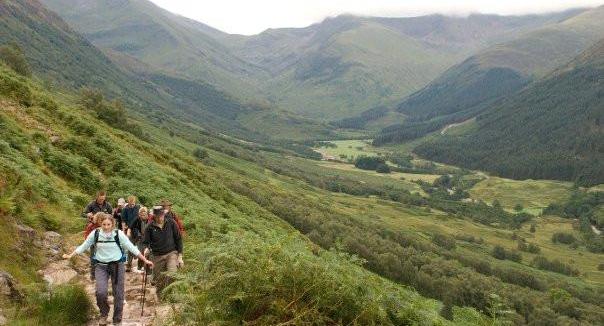 Ben Nevis (Henshaws): May 7th
Regular price £39.00 Sale
Climb the Highest Mountain in the UK

Visit the magnificent Scottish Highlands and take on monstrous Ben Nevis.
The round trip is 11 miles to the summit and back. Starting and finishing at the fabulous Ben Nevis Inn, it begins by crossing the River Nevis and after a steep start reaches a plateau at the famous 'half-way Lochan Meall an t-Suidhe, with views over the spectacular wooded Glen Nevis below.
The pony track path is clear, but long, rocky and steep most of the way. The views are simply breath-taking; surrounded on all sides by peaks as far as the eye can see; on over the islands of the Hebrides and out to sea.
Included in the trip:
Guided Ben Nevis hike only
Accommodation:
To arrange accommodation during your event, please email Laura at laura.wheeler@travelcounsellors.com with the following info:

1. Event & location
2. Dates of the nights you require
3. Single, Double or Twin room
4. Whether you are happy to share a room/property with other members of the group and if you would like to specify that person(s) 
 Summit Ben Nevis, Scotland's iconic peak, "the mountain with its head in the clouds" Climbing to the highest point in the UK is a lifetime experience you will never forget.
We only regret opportunities we don't take...