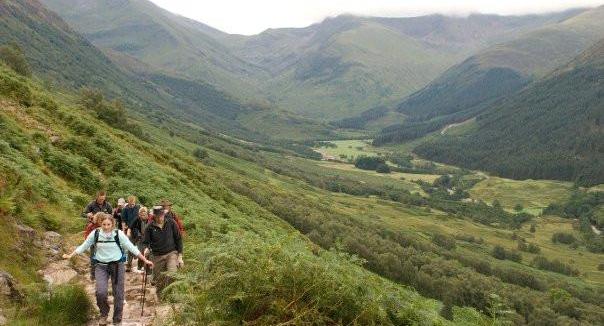 Ben Nevis Trip: Sept 9th-11th
Regular price £39.00 Sale
Climb the UK's Highest Mountain

Visit the magnificent Scottish Highlands and summit Ben Nevis, Scotland's iconic peak, "the mountain with its head in the clouds" Climbing to the highest point in the UK is a lifetime experience you will never forget.
The round trip is 11 miles to the summit and back. Starting and finishing at the fabulous Ben Nevis Inn, it begins by crossing the River Nevis and after a steep start reaches a plateau at the famous 'half-way Lochan Meall an t-Suidhe, with views over the spectacular wooded Glen Nevis below.
The pony track path is clear, but long, rocky and steep most of the way. The views are simply breath-taking; surrounded on all sides by peaks as far as the eye can see; over the islands of the Hebrides and out to sea.
Minibus transport* to the Scottish Highlands
Ben Nevis led mountain hike
2 nights accommodation
Given the extreme weather conditions experienced on the highest mountain in the UK, there will be a flexible schedule to allow attempting Ben Nevis in the best possible conditions. Hence, depending when/what other time is available, we will fit in other optional activities such as:
Falloch Falls visit
Loch Lomond swim
Lost Valley stroll
Fort William Distillery Tour
Kayaking
Evening meal at the Ben Nevis Inn
SCHEDULE (**approx timings):
Saturday:
08:00 Leave Oxford 
12:00 Lunch Tebay Service
17:00 Glencoe - stroll into The Lost Valley
19:00 Arrive Fort William
20:00 Dinner at The Ben Nevis Inn
22:00 Accommodation
Sunday: (dependent on hiker pace)
07:00 Ben Nevis start
9:00 Half Way Point of climb
11:00 Summit Ben Nevis
13:00 Half Way return
15:00 Finish at The Ben Nevis Inn
Monday: 
09:00 Leave Fort William 
10:15 Falls of Falloch visit
11:30 Loch Lomond Stroll (optional swim/dip)
14:00 Lunch stop
20:00 Return to Oxford
*Transport from near Oxford (OX5 1RR) or pickups on route.
**The schedule  and start times will need to remain flexible in order that we can attempt to summit Ben Nevis in the best possible weather conditions. Also to accommodate for variables such as walker pace, traffic, time spent at sights of interest, other hold ups. 
Accommodation:
To make the trip as affordable as possible, we will stay for 2 nights in twin rooms at the Glen Nevis YHA at the very foot of Ben Nevis, where we will start and finish our hike of the highest mountain in the UK.
For anyone wishing to book their own transport and accommodation you can select from the drop-down menu to just join us for the hike.
Important Info:
As well as booking above (using the "Add to Cart" button), in order to confirm your place, please complete our 
applicant health & safety form,
 so we know how best to look after you during the event.
Weather:
Hill and mountain walking can be hazardous! Not being prepared for rapidly changing weather conditions can lead to over exposure or heat stroke. Layers are key, allowing you to easily adjust your level of warmth. We are likely to experience some nasty weather, so for your safe enjoyment please bring the items specified on the kit list.  
Food & Drink:
Walkers are expected to bring all of the food they need for the walk.

As with kit, make sure you have tried and tested anything you eat during the walks, as you do not know how your body might react.

We are going to be walking for a long time! You will consume body fat reserves, expel water and salts that need replacing to prevent muscle cramps, dehydration and fatigue. Hydration is the most important aspect of nutrition. It is essential to take on water in regular, small amounts throughout the walk. It is easy to underestimate how much you need and suffer dehydration, particularly in hot weather.  Each walker should carry a minimum of 2 to 3 litres of fluid depending on the weather; water and sugary drinks. It is important to bring plenty of high energy food and snacks as well as something substantial like a sandwich for lunch. You need to provide your own food and water for the duration of the Challenge.