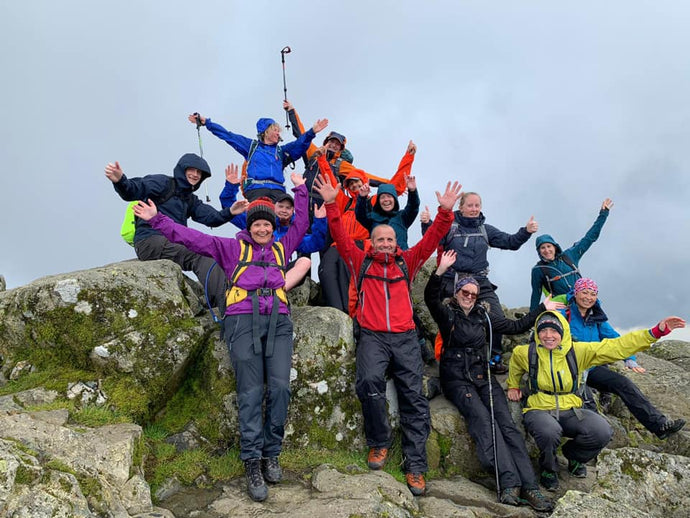 Solemother Coledale Horseshoe: July 1st
Regular price £0.00 £45.00 Sale
The Northern Lakes
10 Peak Challenge!

It's no secret, the Lake District is one of the most beautiful places in England! Filled with epic walks; surrounded by a diverse landscape; ranging from picturesque lakes to craggy fells.
Without doubt the best way to explore this amazing landscape is by foot. To start this epic challenge we rise from the village of Braithwaite, near Keswick (perfect place to arrange weekend accommodation). We continue until up to 10 Wainwright peaks are bagged! Not only that, but we will attempt to undertake this incredible feet in under 10 hours!
The Coledale Horseshoe:
This epic circuit has simply stunning views of the north west corner of the National Park. One of the most spectacular and yet least visited areas of the Lakes. Our trek is accompanied by breath-taking views over the area of hills that lie between Keswick and Crummock Water.
Covering all 10 Peaks over a 13 mile route is a tough walk and comparable with the Yorkshire 3 Peaks. There are some big hill climbs throughout, which will test fitness, stamin and mental resilience. Participants need to be pretty fit to complete the whole Horseshoe, but there are shorter route options with anything from 4 Peaks covered. 

The Northern Lakes 10 Peak Challenge:
Barrow - 455m
Outerside - 568m
Causey Pike - 637m
Scar Craggs - 672m
Sail - 773m
Cragg Hill - 839m
Wandope - 772m
Grasmoor - 852m
Hopegill Head - 770m
Grisedale Pike - 791m


Distance: 13.2 miles
Total Climb: 4,777ft
Target Time: under 10 hours
Life begins at the end of your comfort zone
The Details:
8:30am meet; 

prompt 8:45am start
Start Location: The Royal Oak, Braithwaite, CA12 5SY.

Parking: Free street parking around Braithwaite

Distance approximately 13miles

Duration 7 to 10 hours
Important info:
A WHATSAPP group

 

will be created to share info and photos on the day, so once signed up, please send an email to grant permission to be added to: info@getoutdoorsuk.org

Remember waterproofs, walking boots/shoes, packed lunch & water.

Dogs are welcome, but are entirely the owner's responsibility and must have a lead and be under close control at all times.
If encountering livestock do not walk too close or get between a cow and calf. If threatened, let go of your dog so it can escape and reduce the risk to yourself.
Please keep to the indicated public rights of way and respect the landowner's property at all times.
There are often styles to negotiate on this type of walk.
Countryside walking can often include hills and uneven terrain. Our group ethos is to support everyone in the group to complete the route. As such, we endeavour to walk at a pace all participants are comfortable with. We apologise if this causes any frustration to faster walkers.
Please consult your doctor if you are at all worried about your fitness or ability to take part.
Please inform the walk leaders, Get Outdoors, of any underlying health conditions that may affect your walking ability before signing up.
Required Form:
We need a few more details from everyone, so we know how best to look after you. Once you have booked the walk above, please follow this link and complete some simple questions: Applicant H&S Info Form
Mountain Kit List:
Review the Kit List below to help you decide what you need for your adventure. The walk will go ahead even in strong wind/rain and only cancelled if conditions become what we consider too dangerous. Therefore, it is essential to be properly equipped! Tried and tested clothing only - don't want to find out something rubs once you've started the challenge and it's too late to change!
Rucksack - min 25 litres with cover.
Walking boots; broken in; NO trainers
Double layer walking socks.
Waterproof jacket & trousers.
Base layer top – breathable.
Warm fleece and spare fleece.
Walking trousers - NO jeans!
Multiple thin tops allowing temperature changes.
Post-challenge clothes.
3 litres of fluid per peak.
Basic First Aid kit & Sun cream.
Warm gloves, hat/balaclava.
Head torch with spare batteries.
Whistle for sounding the alarm.
Toiletries, towel.
Mobile phone & waterproof case
Pacing & Splitting:
Depending on numbers, we will split larger groups down into smaller ones, with a mountain leader to look after each for the entire day. Any splitting may well happen fairly early during the challenge, probably based on pace up the first ascent in order that you can each walk with people of similar speed. The aim being to stop anyone feeling under pressure to keep up, while allowing faster walkers to push on. The expectation is that faster groups are more likely to complete all 10 Peaks. Please bear this in mind when you set your pace from the beginning and decide whether you have specific people you wish to walk with.  
We only regret opportunities we don't take!
Food & Drink:

Walkers are expected to provide all of their own food and drink during the trip. Get Outdoors do not supply any food. We will have regular stops to eat, drink and rest.

Please pack a substantial lunch as you will be walking for a long day. Also plenty of snacks and a minimum of 3 litres of water.

As with kit, make sure you have tried and tested anything you eat during the challenge - you do not know how your body might react to anything new. The last thing you want to do is test the unknown during the trip. E.g. BEWARE energy gels if you have not used them before!
  
Fitness:

We have lots of other walks coming up that are great for training. They also provide an opportunity to ask questions about your upcoming challenge and meet other members of the team. So please browse our website www.getoutdoorsuk.org and come join us soon! We're adding new dates all the time. Taking part in build up events is also a great excuse to push your fundraising page and update supporters about your challenge journey via social media, etc.

There is no real training replacement for actually walking up a mountain. It can be very surprising how steep the ascents are and how out of breath people get attempting these climbs. So we strongly recommend tackling an actual mountain as a practice in your build up to the event.

If you aren't able to join us for one of the walks on our website, then great places to train with decent inclines include: The Lake District with 214 Wainwrights; Snowdonia has 14 Peaks over 3,000ft; The Dark Peak District with Mam Tor, the Great Ridge and Kinder Scout; the Brecon Beacons & Black Mountains with Pen y Fan and Sugar Loaf Mountains. These are all quite far from where we are based in Oxfordshire, so reaching them is either a weekend or VERY long day trip.

Although not comparable with the mountains of the 3 Peaks, some other places that we use for training in a day include the Malvern Hills, Chiltern Hills and Cotswolds, which have lots of hilly walks. There may be other hill ranges nearer to you.

The level of training needed depends totally on where you're starting from. Completion is dependent on a mixture of fitness, stamina and determination.

As a rough guide we recommend vigorous exercise at least 3 times per week for as long as possible prior to the event. Walk briskly on the hilliest routes you can find, such that you are regularly out of breath. Improve your stamina by including a long weekly walk, building up to 15 miles or more. Improve your cardio by walking your shorter walks as fast as you can.

Jogging uphill is a really good way to replicate the cardiovascular strain of walking up a steep mountain.

Strength and condition exercise, such as weight training or Pilates are beneficial for working on your leg power and core strength.  

Finally and most importantly, make sure you take it easy during the last week running up to the event. It takes more than 7 days for muscles to recover, rebuild and benefit from any exercise you do. All top athletes do it - 'Tapering off' is your opportunity to exercise lightly and make sure you do not arrive with a build up of lactic acid in your legs that WILL slow you down during the challenge.