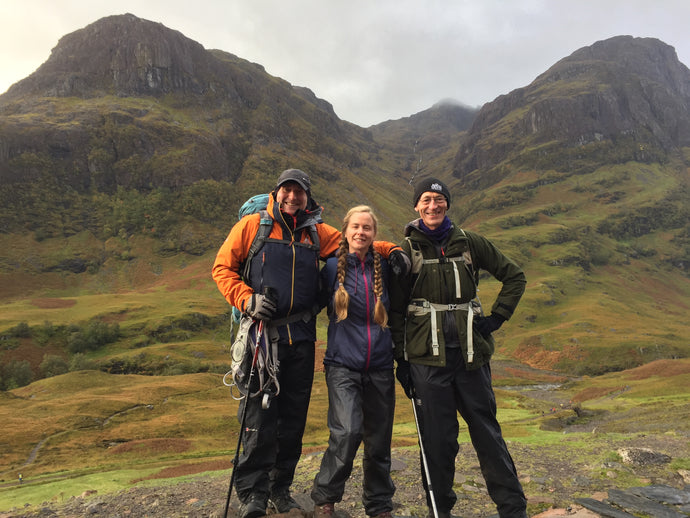 Highland Giants: May 19th-22nd 2023
Regular price £149.00 £149.00 Sale
£149 booking deposit plus £249 final payment
phone: 07885157903     email:info@getoutdoorsuk.org
Discover the Outdoor Capital of the UK!
ITINERARY: 
Day 1: Loch Lomond

Day 2: Glencoe & The Lost Valley

Day 3: Glen Nevis Ring of Steall
We visit Glencoe, Scotland's most famous valley, surrounded by monstrous giants!
You can feel the dramatic history as we enter the "Lost Valley", the legendary scene of the Campbells' massacre of the Macdonald Clan.

We scale the great multi-summit massif of Bidean nam Bian, the highest peak in Glencoe, whose three huge buttresses rise impressively above the famous 'Three Sisters', the awe inspiring view seen from the road.
Hidden behind the mighty Ben, we also enter Glen Nevis to tackle the awesome Ring of Steall, not forgetting a memorable day hiking up Ben Lomond, with views out over stunning Loch Lomond.
phone: 07885157903     email:info@getoutdoorsuk.org
MOUNTAIN KIT LIST:
Essential to be properly equipped
Tried and tested clothing only
Only pack items needed for walking
Rucksack - min 25 litres with cover.
Walking boots – Broken in. NO trainers!
Double layer walking socks; prevent blisters.
Waterproof jacket & trousers.
Base layer top – breathable.
Warm fleece upper layer and spare fleece.
Walking trousers - NO jeans!
Multiple thin tops allowing temperature changes.
Post-challenge clothes.
3 litres of fluid per peak.
Basic First Aid kit & Sun cream.
Warm gloves, hat/balaclava.
Head torch with spare batteries.
Whistle for sounding the alarm.
Toiletries, towel.
Mobile phone with waterproof casing.