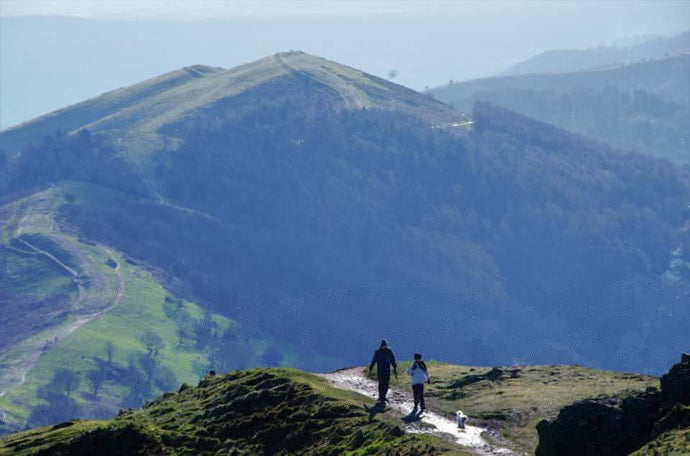 Malvern Hills (SeeSaw): November 21st
Regular price £15.00 Sale
Half of the sign up fee will be donated to Oxford based SeeSaw - one of our favourite charities; giving amazing support to Children who have lost parents.
Spectacular views!
It is no surprise the Malverns have been designated as an Area of Outstanding Natural Beauty. This 11 mile trek up and down a wonderful range of hills has spectacular views over the Cotswolds one way; the Black Mountains and Brecon Beacons into Wales the other.
11am meet; 5pm finish; 11mile walk. 

Swinyard Pay & Display Car Park.

Waterproofs, walking boots and packed lunch are essential.

Dogs welcome.

Transport: 8:30am from OX5 1RR can also be booked above.
Starting at the southern end of the Malverns range, we climb over Swinyard Hill, Hangman's Hill and Millennium Hill to the Herefordshire Beacon, the site of the British Camp, an Iron Age hill fort. This site is thought to date back before the Common Era and has been extended subsequently by a medieval castle. Ancient folklore has it that this is where the British chieftain Caractacus made his last stand against the Romans. The extensive earthworks remain clearly visible today and determine the shape of the hill.

We carry on to climb Black Hill, Pinnacle Hill and Jubilee Hill before dropping down to cross the Wyche Cutting, a mountain pass through the hills used in prehistoric times as part of the salt route from Droitwich to South Wales.

Continuing our undulating route, on which we take in almost the entire length of the hill range, we finally ascend a long slow climb to the top of Summer Hill, where the spectacular plinth of the Worcestershire Beacon (1,395ft) sits at the Malvern Hill's highest point and our final destination.

We then retrace our steps all the way back to Swinyard. 
Finding the Car Park:
Head towards Eastnor and Ledbury on the A438. Turn right onto a very narrow road as you reach Hollybush (2miles before Eastnor). The nearest postcode of HR8 1EU takes you to Zephir Lidar Farm; go past this and soon after is the pay and dispaly car park on the right.
Parking costs around £5 for the day.
Please remember some waterproofs, walking boots and a packed lunch.
Dogs welcome, but there are areas with sheep, so be prepared to use a lead.