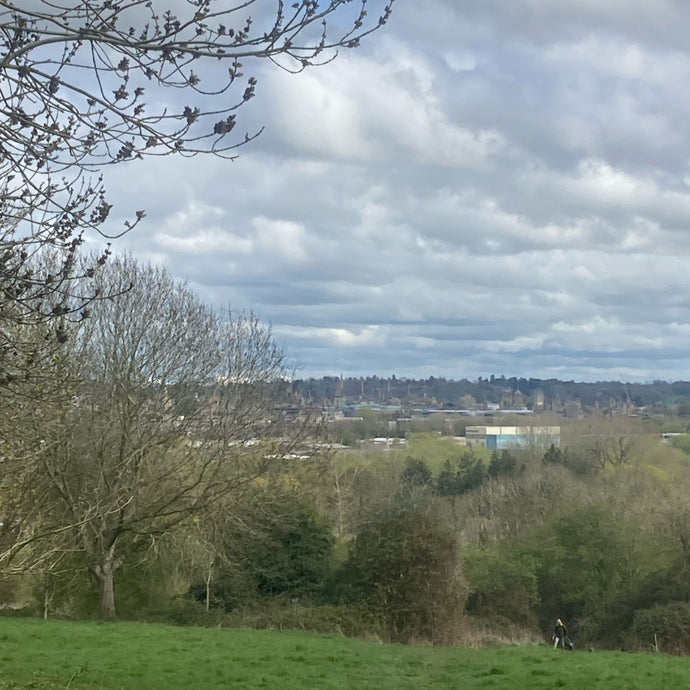 Oxford Jubilee Walk: September 16th
Regular price £0.00 £7.00 Sale
Beautiful City & Countryside!
Connecting an ancient city with its stunning surrounding countryside, this walk starts along the river and climbs gradually up Boars Hill to enjoy the vision of the city's 'dreaming spires' made famous by Matthew Arnold.
To safeguard these views the Oxford Preservation Trust purchased Matthew Arnold's Field and other land. Sir Arthur Evans, keeper of the Ashmolean Museum erected a great mound to enable people to see the view over the tree tops, the name of which, Jarn Mound, was taken from the old name of nearby Jarns Heath.
In spite of modern dwellings and highways, obtrusive pylons and the noise of today's mechanical life, there remains great variety of natural beauty, scenic value, and historic interest in this special city of Oxford and its connected countryside.
Supporting Seesaw:
£7 will go towards running the event and the remainder of your sign up fee will go to support Oxford based SeeSaw.

One of our favourite charities, which "provides support for children, young people and their families in Oxfordshire when they have been bereaved or when somebody close to them is terminally ill."
The Details:
9:45am meet, prompt 10am start

Seacourt Park & Ride, Botley rd, Oxford, OX2 0HP.

Approximately 10miles.

Duration 5+hours.

Leader: Sharon

 

meet our leaders
Important info:
A WHATSAPP group will be created to share info and photos on the day, so once signed up, please send an email to grant permission to be added to: info@getoutdoorsuk.org

Remember waterproofs, walking boots/shoes and a packed lunch & water.

Dogs are welcome, but are entirely the owner's responsibility and must have a lead and be under close control at all times.
If encountering livestock do not walk too close or get between a cow and calf. If threatened, let go of your dog so it can escape and reduce the risk to yourself.
Please keep to the indicated public rights of way and respect the landowner's property at all times.
There are often styles to negotiate on this type of walk.
Countryside walking can often include hills and uneven terrain. Our group ethos is to support everyone in group to achieve their maximum potential in terms of completing the route. As such, we endeavour to walk at a pace all participants are comfortable with. We apologise if this causes any frustration to fitter walkers.
Please consult your doctor if you are at all worried about your fitness and ability to take part.
Please inform the walk leaders, Get Outdoors, of any underlying health conditions that may affect your walking ability before signing up. 
Required Form:
We need a few more details from everyone, so we know how best to look after you. Once you have booked your walk above, please follow this link and complete some simple questions ASAP: Applicant Information Form
Sign up for Future Walk Info:
"Like" the Get Outdoors Facebook Group for the latest walking dates.
Submit your email address below to receive reminders and information on walks we have coming up.
Join us for a hike in beautiful places like the Brecon Beacons, Cotswolds, Malverns, Chilterns, Peak District and Oxford. The perfect way to start your training for a challenge like a 3 Peaks or simply to get out into the countryside, while being sociable.
We only regret the opportunities we don't take...