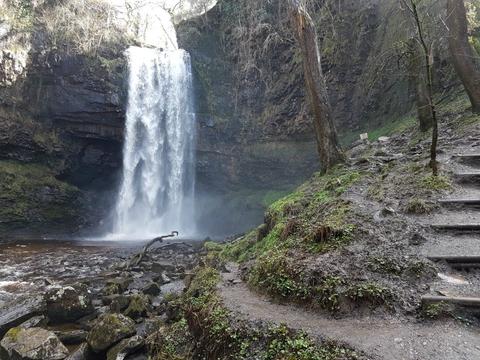 Pen y Fan & Waterfall Country: June 3-4th
Regular price £79.00 £79.00 Sale
Alternatively save money by signing up for one of the charities we support here
SATURDAY: Waterfall Country (Brecon Beacons)
We take a walk into mystic wooden valleys of the Brecon Beacons, home to some of the most magnificent waterfalls in the UK.
We start the day meeting at Pontneddfechan for a 5 mile stroll along the Elidir Trail, to take in the waterfalls of Sgwd Gwladus, Sgwd y Bedol, Sgwd Ddwli Isaf and Sgwd Ddwli Uchaf. Depending on recent rainfall and depth of the water, we will be able to cross in front of some, swim beneath others and even walk behind one or two on this truly incredible walk.
Depending how the day is going we can extend this by a further 3 miles to also visit the 2 even larger waterfalls of Sgwd Isaf Clun-gwyn and walk behind Sgwd yr Eira.  
Time permitting, we then take a short drive to Henrhyd Falls, the highest in South Wales, with a single drop of over 90ft. Formed at the end of the last Ice Age, millions of years ago, it was famously used as the entrance to the Bat Cave in the Dark Knight Rises movie and you can actually walk behind it!
Meet Instructions:
11:30am outside the Angel Hotel, Glynneath, SA11 5NR.

Free parking in the layby as you approach the Angel.

Arrive early to secure a parking space.

Public toilets at the start of the walk.
SUNDAY: Pen y Fan Horseshoe

The highest peak in South Wales provides a challenging climb to the summit standing at 886m. The horseshoe route is just over 9miles long and will take around 6 hours. An early start sees us set off from the Brecon Beacon's Taf Fechan Forest and the walk begins with the steepest climb of the day. We continue with a more restful flatter ridge for around an hour, before heading up to the first of our 4 summits, Corn Du. On a clear day, we start to take in the most magical view for miles, towering over the surrounding Welsh countryside.

After Corn Du, we drop a little, before climbing to our highest point, the impressive summit of Pen y Fan at 886m. A great place to stop for lunch, while enjoying the view on a nice day.

We continue around this circular horseshoe route with a quick descent before climbing once more to the top of the next peak, Cribyn. As we look back, the views of Pen y Fan's steep face arching around behind us is one of the most iconic in the Brecon Beacons.

Finally walkers have the option of either taking a well earned rest or tackling the shorter sharp out and back ascent of Fan-y-Big. This final peak is the home of the famous "Diving Board", from which the brave can take some impressively daring pictures! 
Meet Instructions:
9am meet outside The Red Cow, Pontsticill, Merthyr Tydfil, CF48 2UN.

We will then travel in convoy to Neuadd Car Park, Talybont-on-Usk, Merthyr Tydfil, CF48 2UT.

Please meet Get Outdoors when you arrive at the far end of the car park and check-in again at the finish. The group will be led all the way, but would like to make sure everyone gets home safely.

Take a comfort break on the way; no toilets in the car park or on the walk.




Free parking, but we need to arrive early to secure parking spaces.
We only regret the opportunities we don't take
IMPORTANT INFO:
A WhatsApp group

 

will be set up to share info and photos. Please send a quick email with permission to add you to the group:

 

info@getoutdoorsuk.org
Transport:

 

please car share where possible, as parking is limited and for the good of the environment. Transport available from OX5 1RR leaving at 8:30am on the Saturday and returning around 8pm Sunday. This can be added to your booking above.
Kit:

 

Packed lunches, walking boots, multiple layers and waterproofs (including trousers!) are essential. The weather could be very cold and wet. Please visit our recommended

 

kit list.
While on the walk: we ask you to remain with the group and following instructions from Get Outdoors leader(s), who have the final decision in all instances.
Problems:

 

on the day call Chris: 07885157903

Dogs:

 

are welcome, but are entirely the owner's responsibility and must have a lead and be under close control at all times.
Livestock: If encountered do not walk too close or get between a cow and calf. If threatened, let go of your dog so it can escape and reduce the risk to yourself.

Public rights of way: please keep to them and respect the landowner's property at all times.

Styles:

 

are often present on the route to negotiate on this type of walk.
Countryside walking:

 

can often include hills and uneven terrain. Our group ethos is to support everyone in group to achieve their maximum potential in terms of completing the route. As such, we endeavour to walk at a pace all participants are comfortable with. We apologise if this causes any frustration to fitter walkers.
Health:

 

please consult your doctor if you are at all worried about your fitness and ability to take part. Please inform the walk leaders, Get Outdoors, of any underlying health conditions that may affect your walking ability before signing up and complete the following:
Health & Safety App
lication Form:
If you haven't already (or if personal circumstances have changed), please complete the applicant health & safety form at this link, so we know how best to look after you.
Accommodation:
For help arranging accommodation during your event and/or to stay in the same place as the main group, please email: info@getoutdoorsuk.org with the following info:

1. Event & location
2. Dates of the nights you require
3. Single, Double or Twin room
4. Whether you are happy to share a room/property with other members of the group and if you would like to specify that person(s)
If you plan to arrange your own accommodation, but wish to book transport with Get Outdoors, please email us with the location before booking. 

Future Walk Info:
Submit your email address below to receive information on future walks.
Join us for a hike in beautiful places like the Brecon Beacons, Cotswolds, Malverns, Chilterns, Peak District, Oxford...
Perfect way to start your training for a challenge like the 3 Peaks or simply to get out into the countryside, while being sociable.
Please "Like" the Get Outdoors Facebook Group for even more updates!