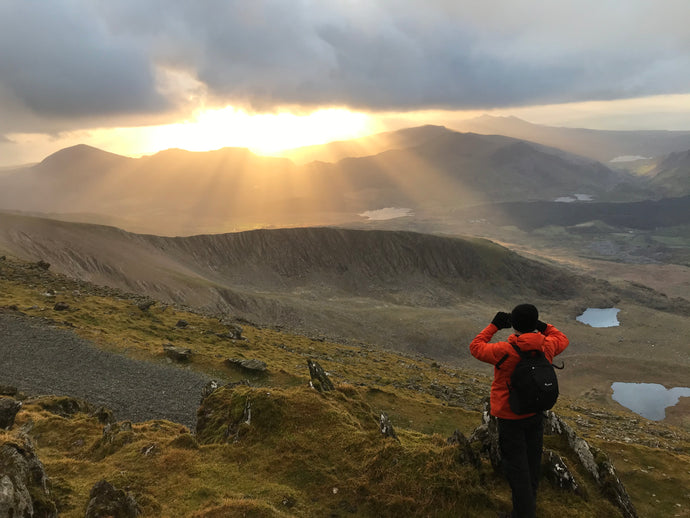 Snowdon Sunset: August 26th-27th
Regular price £0.00 £99.00 Sale
Alternatively save money by signing up for one of the charities we support
here
The Highest Mountain in Wales
This isn't just any trek to the top of the highest peak in Wales! This is a chance to experience the most incredible sunset horizon from the summit of one of the most famous mountains in the world!
Saturday

- Snowdon Sunset

 
15:45 Meet Electric Mountain visitor centre, Llanberis, LL55 4UR.
16:10 Catch shuttle bus to Pen-y-pass
17:00 Start Snowdon hike
20:35 Sunset Time from Snowdon Summit
21:00: Begin Descent
23:30: Finish & head for accommodation
Stunning Lake & Waterfall Walks
Sunday 

- Aber Falls & Llyn Idwal
09:00: 3 mile hike around Llyn Idwal, under the the Magnificent Glyderau Mountains
12:00: 5 mile hike to the foot of the magnificent Aber Falls
15:00: Finish
Important Information:
As well as booking your place above (using the "Add to Cart" button), in order to confirm your place, please complete our 
applicant health & safety form,
 so we know how best to look after you during the event.
Also have a look at our Kit List to help you decide what you need for your adventure!
Accommodation:
This is not included. We ask participants to make their own bookings, because we all have different requirements and budgets. For the sunset walk we will finish in Llanberis, so this is a convenient location. Our recommendations include:
Most Convenient:
Llanberis Lodges (nice properties for groups/families)
YHA Snowdon (Budget option)
YHA Pen y Pass (Budget option)
Nice Location:
Betsw-y-coed is a nice village with lots of options and our favourite place to stay. Recommendations:
Dolweunydd B&B (Excellent!)

The Waterloo Hotel (swimming pool)
The Eagle Bunkhouse (Budget)
Additional Help:
If you would like some expert accommodation advice we recommend contacting:
laura.wheeler@email.travelcounsellors.co.uk
Transport:
Minivan transport can be booked from the drop down menu above. This is available from near Oxford (OX5 1RR) or pick ups locations on route.
Mountain Kit List:
Review the Kit List below to help you decide what you need for your adventure. The walk will go ahead even in strong wind/rain and only cancelled if conditions become what we consider too dangerous. Therefore, it is essential to be properly equipped! Tried and tested clothing only - don't want to find out something rubs once you've started the challenge and it's too late to change! 
Rucksack - min 25 litres with cover.
Walking boots; broken in; NO trainers
Double layer walking socks.
Waterproof jacket & trousers.
Base layer top – breathable.
Warm fleece and spare fleece.
Walking trousers - NO jeans!
Multiple thin tops allowing temperature changes.
Post-challenge clothes.
3 litres of fluid per peak.
Basic First Aid kit & Sun cream.
Warm gloves, hat/balaclava.
Head torch with spare batteries.
Whistle for sounding the alarm.
Toiletries, towel.
Mobile phone & waterproof case
Fitness:

We have lots of other walks coming up that are great for training. They also provide an opportunity to ask questions about your upcoming challenge and meet other members of the team. So please browse our website www.getoutdoorsuk.org and come join us soon! We're adding new dates all the time. Taking part in build up events is also a great excuse to push your fundraising page if you are supporting a charity and update supporters about your challenge journey via social media, etc.

If you aren't able to join us for a walk, then great places to train with decent inclines include: The Lake District with 214 Wainwrights; Snowdonia; The Dark Peak District with Mam Tor, the Great Ridge and Kinder Scout; the Brecon Beacons & Black Mountains with Pen y Fan and Sugar Loaf Mountains. There's also the Malvern Hills, Chiltern Hills and Cotswolds, which have lots of hilly walks. There may be other hilly area near you.

The level of training needed depends totally on where you're starting from. Completion is dependent on a mixture of fitness, stamina and determination.

As a rough guide we recommend vigorous exercise at least 3 times per week for as long as possible prior to the event. Walk briskly on the hilliest routes you can find, such that you are regularly out of breath. Improve your stamina by including a long weekly walk, building up to 15 miles or more. Improve your cardio by walking your shorter walks as fast as you can.

Jogging uphill is a really good way to replicate the cardiovascular strain needed for ascents.

Strength and condition exercise, such as weight training or Pilates are beneficial for working on your leg power and core strength.  

Finally and most importantly, make sure you take it easy during the last week running up to the event. It takes more than 7 days for muscles to recover, rebuild and benefit from any exercise you do. All top athletes do it - 'Tapering off' is your opportunity to exercise lightly and make sure you do not arrive with a build up of lactic acid in your legs that WILL slow you down during the challenge.
We only regret opportunities we don't take...
Snowdonia
Behold the sweeping valleys
Where the heathered slopes do lie, 
With rugged peaks that reach
Unto the ever-changing sky, 
Where Snowdon stands before me now
As clouds begin to break, 
Llanberis still the morning light
Now rests upon the lake.
 - by ANDREW BLAKEMORE