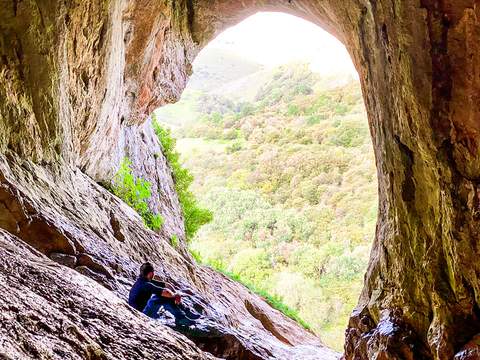 Thor's Cave: March 8th 2024 (Friday)
Regular price £25.00 Sale
A breath-taking view that has to been experienced!
Hidden away amongst the magnificent rolling hills of the White Peak, this natural cavern, is set in a steep limestone crag. It's legend and name link it to the Norse God, Thor. It's entrance fittingly boasts a huge arch that frames fabulous scenery out over the national park - the gateway you would expect to home of a hammer-wielding god, associated with thunder, lightening and fertility.
Easily visible on approach from the footpath below, the cave has provided evidence of human occupation during the Stone Age, from 11,000 years ago; being used well into the Iron Age and even Roman Period. Findings include stone tools, pottery, amber beads and bronzes, as well as being the burial site of numerous people.
Wetton Hill & The Manifold Valley
The sleepy village of Wetton sends us up and out on our adventure to take in stunning hill views over the Manifold Valley, before dropping down to follow the river along the disused railway that now forms the Manifold Way. After following this picturesque meandering track, our quest arrives at the sight of Thor's almighty limestone cave opening, towering 80m above. The final and hardest climb of the day is rewarded by a steep, slippery cave entrance that acts as one final test, before we are afforded  the most iconic of views from the 10m high doorway of the deity. 
See if your arrival is met by a clap of THUNDER!
11am meet in Wetton
Waterproofs, warm layers, walking boots, packed lunch essential.
Dogs welcome, but with leads and there are styles to negotiate.
ADD TRANSPORT FROM OXFORDSHIRE FROM THE DROP DOWN MENU ABOVE.
Future Walk Info: 
"Like" the Get Outdoors Facebook Group and submit your email address below to receive information on future walks.
Join us for a hike in beautiful places like the Brecon Beacons, Cotswolds, Malverns, Chilterns, Oxford...
Perfect way to start your training for a challenge like the 3 Peaks or simply to get out into the countryside, while being sociable.