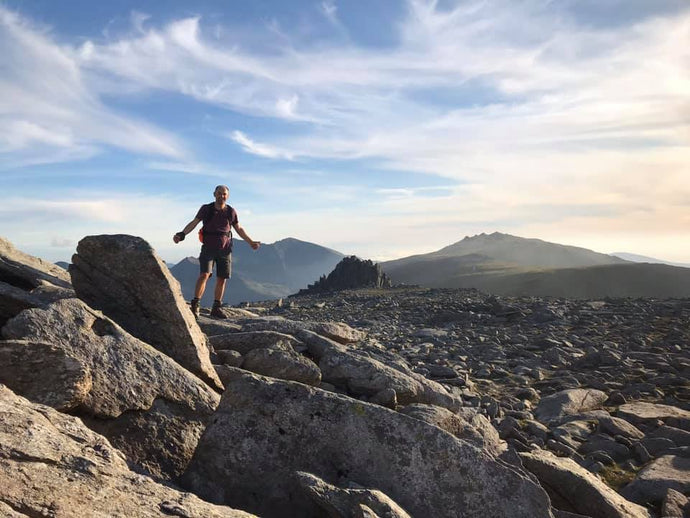 The Welsh 3000s: July 2nd-5th
Regular price £99.00 £149.00 Sale
Welsh 3000s: 

Conquer the Mountains of Snowdonia
Welsh 3000s Trip
Summit Snowdon, the highest mountain in Wales; traverse the knife edged ridge of Crib Goch; scramble over the incredible Glyders; take on towering Tryfan; go beyond the Carneddau range and finish at the stunning Aber Falls! 
What's Included?:
Guided trek of the Welsh 3000s by qualified mountain leaders
2 nights accommodation
Pre-event support, advice and training walks
Backup transport - participants spare kit and clothing is transported between accommodation, so we only carry what is needed for each mountain day.
£149 booking deposit (non-refundable)
plus £199 final payment
3000s Itinerary:
Trek of Snowdonia's 14 highest peaks! 
The Snowdon Massif - Saturday
Crib y Ddysgl 1065m

Crib Goch 923m 

Snowdon 1085m
We meet mid morning to begin hiking up Snowdon. Depending where you're coming from, you may wish to travel there that morning or book somewhere locally to stay the night before. The first day's hike includes an exciting scramble across the ridge of Crib Goch and finishes with a descent into the town of Llanberis, where we spend the night. We love camping, but use bunkhouse/budget hotel type accommodation for this event at the end of long walking days to save the effort of setting up tents and to provide somewhere warm and dry in the event of bad weather. 
The Glyderau - Sunday
Elidir Fawr 923m

Y Garn 947m

Glyder Fawr 1000m

Glyder Fach 994m

Tryfan 915m
We hike from Llanberis up over 
Elidir Fawr, Y Garn and out to the Glyderau Range, finishing with some bouldering to the magnificent summit of Tryfan. We descend into the Ogwen Vallay to spend the night.
The Carneddau Range - Monday
Carnedd Dafydd 1044 m

Yr Elen 962 m

Carnedd Llewelyn 1064 m

Foel Grach 976 m

Carnedd Uchaf 926m
We head straight out of the door to the other side of Llyn Ogwen and up to explore the Carneddau range, finishing with a decent alongside stunning Aber Falls, the highest waterfall in North Wales. We arrange transport back to the start, but recommend booking subsequent nights' accommodation if you'd like to stay on and explore beautiful Snowdonia even more.

We only regret the opportunities we didn't take...
Snowdonia:
Behold the sweeping valleys
Where the heathered slopes do lie, 
With rugged peaks that reach
Unto the ever-changing sky, 
Where Snowdon stands before me now
As clouds begin to break, 
Llanberis still the morning light
Now rests upon the lake.
 - by ANDREW BLAKEMORE