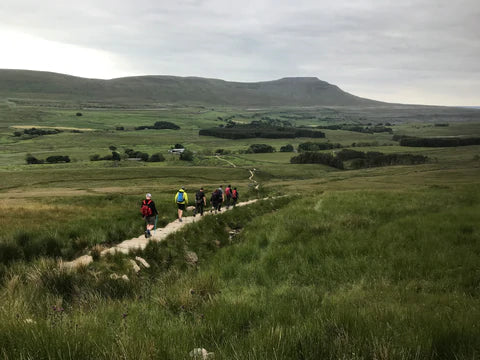 Yorkshire Three Peaks: July 13th
Regular price £0.00 £0.00 Sale
Bookings made here: Yorkshire 3 Peaks Challenge - Henshaws
The 3 Highest Peaks in Yorkshire
 Ingleborough, Whernside, Pen-y-Ghent
From Horton, the clock starts ticking…. Walking as one team we attempt to conquer the 3 spectacular fells of Whernside (736m), Ingleborough (723m) and Pen-y-Ghent (694m) that dominate the Dales skyline.
We will cover 39km and climb over 1700m within just 12 hours to return to Horton and successfully complete the challenge and enter the 'Three Peaks of Yorkshire Club'. 
For more info and to sign up please visit the: Henshaws website
Sign up for just £10 and pledge to raise £100 or more!
Difficult roads often lead to beautiful destinations...
The Yorkshire 3 Peaks Route:
Anti-clockwise circular route starting and finishing in Horton-in-Ribblesdale.


Saturday Timetable:
06:30 Registration opens in Horton 
08:00 START Challenge (Anti-clockwise)
09:00 Summit Pen-y-Ghent
10:00 Refreshments at Ribblehead
13:00 Summit Whernside
14:00 Philpin Farm refreshments
15:30 Summit Ingleborough
19:30 Expected end of challenge 



Important Info:
As well as booking your place above (using the "Add to Cart" button), in order to confirm your place, please complete our 
applicant health & safety form,
 so we know how best to look after you during the event.
Weather:
Hill and mountain walking can be hazardous! Not being prepared for rapidly changing weather conditions can lead to over exposure or heat stroke. Layers are key, allowing you to easily adjust your level of warmth. We are likely to experience some nasty weather, so for your safe enjoyment please bring the items specified on the kit list.   
Food & Drink:
Walkers are expected to bring all of the food they need for the walk. 

As with kit, make sure you have tried and tested anything you eat during the walks, as you do not know how your body might react.

You are going to be walking for 12 hours. You will consume body fat reserves, expel water and salts that need replacing to prevent muscle cramps, dehydration and fatigue. Hydration is the most important aspect of nutrition. It is essential to take on water in regular, small amounts throughout the walk. It is easy to underestimate how much you need and suffer dehydration, particularly in hot weather.  Each walker should carry a minimum of 3 litres of fluid; water and sugary drinks. It is important to bring plenty of high energy food and snacks as well as something substantial like a sandwich for lunch. You need to provide your own food and water for the duration of the Challenge. We expect to have several refreshment stops on the route, but best to prepare for the unexpected!
Life begins at the end of your comfort zone!