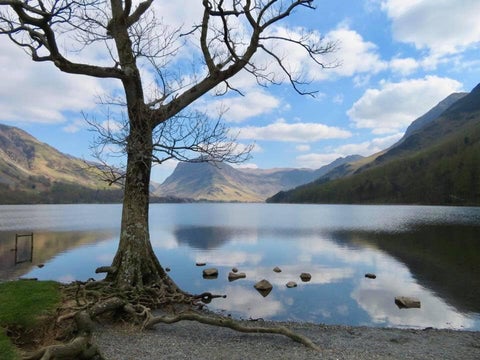 Buttermere 7 Peaks Challenge: May 20th
Regular price £45.00 £45.00 Sale
The Buttermere Horseshoe
Our trek is accompanied by breath-taking views over Buttermere and Crummock Water one way and out into the Lakeland Fells the other.
After a flat start, strolling along the banks of beautiful Buttermere, we start our first and biggest climb past the impressive Scale Force Falls.
As one team of intrepid hikers, our aim is conquer either the first 4, or for the seriously strong, all 7 of the magnificent Peaks that tower above the prettiest lake in the entire Lake District.

Not only that, but we will attempt to undertake this incredible feet in under 12hours!

15.4miles of hiking; 6,017ft of ascent. 
The Peaks above the prettiest Lake
It's no secret, the Lake District is one of the most beautiful places in England! Filled with epic walks; surrounded by a diverse landscape; ranging from picturesque lakes to craggy fells. None is more beautiful than this route around the hills surrounding the prettiest Lake in the District.
Without doubt the best way to explore this amazing landscape is by foot. To start this epic challenge we rise from beside beautiful Buttermere to ascend the steep climb alongside the majestic Scale Force waterfall to the summit of magnificent Red Pike.
We continue until 7 of Wainwright's favourite peaks are bagged, including Haystacks, where he would famously sit beside the tranquil Innominate Tarn pondering life. This the site his ashes were famously spread by his long suffering wife...
Buttermere 7 Peaks Challenge:
The Summits on the Route:
Red Pike      - 755m
High Stile     - 807m
High Crag    - 744m
Hay Stacks   - 597m
Fleetwith Pike - 648m
Dalehead - 753m
Robinson - 737m
Distance: 15.4 miles
Total Climb: 6,017ft
Target Time: 12 hours 

Life begins at the end of your comfort zone...
Buttermere 4 Peaks Challenge:
For those wanting slightly less distance, why not take on the first 4 peaks, which provide the same epic climb and all the magnificent views over Buttermere.
No need to make a decision in advance. The routes is the same, just reaching a point where you can decide if you'd rather have a slightly earlier visit to the pub!
The Summits on the Route:
Red Pike      - 755m
High Stile     - 807m
High Crag    - 744m
Hay Stacks   - 597m
Distance: 8miles (10.5 miles flat equivalent)
Climb Rate: 135m/mile
Total Climb: 1240m 
Important Info:
As well as booking your place above (using the "Add to Cart" button), in order to confirm your place, please complete the applicant health & safety form, so we know how best to look after you during the event.
Meet Details:
Start Location: National Trust Car Park, Buttermere, CA13 9UZ
Free to National Trust Members. £8 for the day to non-members.
There is limited parking, so please car share and arrive in good time to find a space and be ready to walk.

Start Time: 8am

Expected Completion 4 Peaks: 4pm (depending on your pace)
 
Expected Completion 7 Peaks: 8pm (depending on your pace)

Whatsapp: a group will be set up to share info and photos. Please send a quick email with permission to add you to the group
Accommodation:
This in not included in the booking, but we can help you arrange it for during the event. Please email: info@getoutdoorsuk.org with the following info:

1. Event & location
2. Dates of the nights you require
3. Single, Double or Twin room
4. Whether you are happy to share a room/property with other members of the group and if you would like to specify that person(s)
Transport:
Transport can be booked from OX5 1RR with possible pickups on the way. This will leave at 10am on the Friday and return Sunday evening.
Mountain Kit List:
Review the Kit List below to help you decide what you need for your adventure. The walk will go ahead even in strong wind/rain and only cancelled if conditions become what we consider too dangerous. Therefore, it is essential to be properly equipped! Tried and tested clothing only - don't want to find out something rubs once you've started the challenge and it's too late to change! 
Rucksack - min 25 litres with cover.
Walking boots; broken in; NO trainers
Double layer walking socks.
Waterproof jacket & trousers.
Base layer top – breathable.
Warm fleece and spare fleece.
Walking trousers - NO jeans!
Multiple thin tops allowing temperature changes.
Post-challenge clothes.
3 litres of fluid per peak.
Basic First Aid kit & Sun cream.
Warm gloves, hat/balaclava.
Head torch with spare batteries.
Whistle for sounding the alarm.
Toiletries, towel.
Mobile phone & waterproof case
We only regret the opportunities we don't take!
Fitness:

We have lots of other walks coming up that are great for training. They also provide an opportunity to ask questions about your upcoming challenge and meet other members of the team. So please browse our website www.getoutdoorsuk.org and come join us soon! We're adding new dates all the time. Taking part in build up events is also a great excuse to push your fundraising page and update supporters about your challenge journey via social media, etc.

There is no real training replacement for actually walking up a mountain. It can be very surprising how steep the ascents are and how out of breath people get attempting these climbs. So we strongly recommend tackling an actual mountain as a practice in your build up to the event.

If you aren't able to join us for one of the walks on our website, then great places to train with decent inclines include: The Lake District with 214 Wainwrights; Snowdonia has 14 Peaks over 3,000ft; The Dark Peak District with Mam Tor, the Great Ridge and Kinder Scout; the Brecon Beacons & Black Mountains with Pen y Fan and Sugar Loaf Mountains. These are all quite far from where we are based in Oxfordshire, so reaching them is either a weekend or VERY long day trip.

Although not comparable with the mountains of the 3 Peaks, some other places that we use for training in a day include the Malvern Hills, Chiltern Hills and Cotswolds, which have lots of hilly walks. There may be other hill ranges nearer to you.

The level of training needed depends totally on where you're starting from. Completion is dependent on a mixture of fitness, stamina and determination.

As a rough guide we recommend vigorous exercise at least 3 times per week for as long as possible prior to the event. Walk briskly on the hilliest routes you can find, such that you are regularly out of breath. Improve your stamina by including a long weekly walk, building up to 15 miles or more. Improve your cardio by walking your shorter walks as fast as you can.

Jogging uphill is a really good way to replicate the cardiovascular strain of walking up a steep mountain.

Strength and condition exercise, such as weight training or Pilates are beneficial for working on your leg power and core strength.  

Finally and most importantly, make sure you take it easy during the last week running up to the event. It takes more than 7 days for muscles to recover, rebuild and benefit from any exercise you do. All top athletes do it - 'Tapering off' is your opportunity to exercise lightly and make sure you do not arrive with a build up of lactic acid in your legs that WILL slow you down during the 3 Peaks.