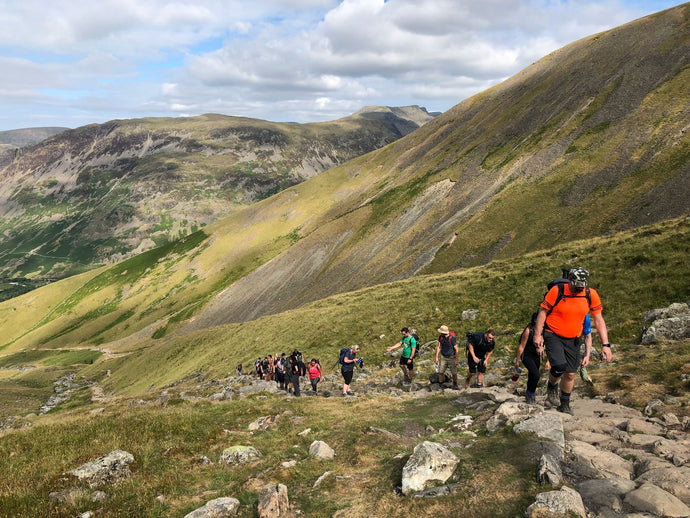 National Three Peaks: May 17th-20th
Regular price £149.00 £149.00 Sale
£149 booking fee + £299 final payment
The Highest Mountains in England, Scotland & Wales
The National Three Peaks Challenge consists of climbing the tallest mountains in Scotland (Ben Nevis), England (Scafell Pike) and Wales (Snowdon) back-to-back.
The combined ascent of the 3 mountains is over 3,000 metres. The distance covered in excess of 40km. In other words, this is one serious challenge!  And that is why it is found on so many people's bucket lists.
Do not underestimate the level of fitness, stamina and determination that is required! 
Minibus pick up
Transport between peaks
Qualified Mountain Leader(s)
3 nights accommodation (twin rooms) 
Signing Up:
As well as booking your place above (using "Add to Cart" button), in order to confirm your place, please complete our applicant H&S form with T&Cs, so we know how best to look after you.
Also have a look at our Kit List to help you decide what you need for your adventure!
Responsible 3 Peaking:
The 3 Peaks takes a tremendous team effort to complete. The key to successes is in the preparation and planning. It must also be done with responsibility and respect to allow others to continue enjoying both visiting and inhabiting the mountains. There is some negative impact, such as erosion and littering, caused by an increased use of the mountains. Hence we follow the 'Code of Practice for Outdoor Fundraising Events', developed by the Institute of Fundraising written in consultation with a range of groups including the National Park Authorities and the National Trust, who owns Scafell Pike and part of Snowdonia.
MOUNTAIN KIT LIST:
Essential to be properly equipped
Tried and tested clothing only
Only pack items needed for walking
Rucksack - min 25 litres with cover.
Walking boots; broken in; NO trainers
Double layer walking socks.
Waterproof jacket & trousers.
Base layer top – breathable.
Warm fleece and spare fleece.
Walking trousers - NO jeans!
Multiple thin tops allowing temperature changes.
Post-challenge clothes.
3 litres of fluid per peak.
Basic First Aid kit & Sun cream.
Warm gloves, hat/balaclava.
Head torch with spare batteries.
Whistle for sounding the alarm.
Toiletries, towel.
Mobile phone & waterproof case
Weather:
Hill and mountain walking can be hazardous! Not being prepared for rapidly changing weather conditions can lead to over exposure or heat stroke. Layers are key, allowing you to easily adjust your level of warmth. We are likely to experience some nasty weather, so for your safe enjoyment please bring the items specified on the kit list.  
Training & Fitness:
This certainly is one heck of a challenge and the fitter you are the more enjoyable you will find it. There is still plenty of time to improve your fitness.
The level of training needed depends totally on where you are starting from. Completion of the challenge is dependent on a mixture of fitness, stamina and determination.
As a rough guide we recommend vigorous exercise at least 3 times per week for as long as you can prior to the event. Walk briskly on the hilliest routes you can find, such that you are regularly out of breath. Improve your stamina by including a long weekly walk, building up to 15 miles or more. Improve your cardio by walking your shorter walks as fast as you can.
Jogging uphill is a really good way to replicate the cardiovascular strain of walking up a steep mountain and a great way to pack in some intense last-minute training if you are feeling a bit behind.
Strength and condition exercise, such as weight training or Pilates are beneficial for working on your leg power and core strength.
You can't truly replicate the relentlessness of a steep mountain incline, so we fully recommend actually visiting some as part of your training! Great places to train with decent inclines include: The Lake District with 214 Wainwrights; Snowdonia has 14 Peaks over 3,000ft; The Dark Peak District with Mam Tor, the Great Ridge and Kinder Scout; the Brecon Beacons & Black Mountains with Pen y Fan and Sugar Loaf Mountains.
Finally and most importantly, make sure you take it easy during the last week running up to the event. All top athletes do it - 'Tapering off' is your opportunity to exercise lightly and make sure you do not arrive with a build up of lactic acid in your legs that will slow you down during the challenge.
Food & Drink:
Walkers are expected to provide all of their own food and drink during the trip. Get Outdoors do not supply any food. We will have regular stops to eat, drink and rest.


Please pack a substantial lunch as you will be walking for a long day. Also plenty of snacks and a minimum of 3 litres of water.
As with kit, make sure you have tried and tested anything you eat during the challenge - you do not know how your body might react to anything new. The last thing you want to do is test the unknown during the trip. E.g. BEWARE energy gels if you have not used them before!
TYPICAL TIMETABLE:
DAY 1: Snowdon
On the first morning we pick walkers up on route to beautiful North Wales, where we discover mighty mount Snowdon! 
That afternoon we head up from Pen y Pass car park to tackle the steep Pyg Track that rises up around the reservoir of Llyn Llydaw; crossing the causeway and climbing the northern tip of Glaslyn. The hike continues on a steep zig-zag before one last push to the 1085m summit for a view of the sun setting over a distant horizon.
After 5 to 6 hours on the mountain, the evening meal is spent celebrating the achievements of a great first day, after which everyone sleeps well at our overnight accommodation.
DAY 2: Scafell Pike
After an early start and 5 hours on the minibus, we finally discover the picturesque twisty lanes leading to Scafell Pike amidst the stunning western Lake District. The highest mountain in England has surprisingly rocky and unrelentingly steep paths. After another 5 or 6 hours of serious hill hiking with the peak at 978m, we aim to finish and head for our Lakes accommodation by sunset.
DAY 3: Ben Nevis
Heading north into Scotland and on through the magnificent highlands; a drive to take your breath away through monstrous scenery of beautiful Glencoe. We finally reach our biggest challenge; a 1345m climb from Fort William to Britain's highest point; the summit plateau of colossal Ben Nevis. Jaw dropping, incredible views! This giant takes in excess of 6 hours to conquer, meaning our evening celebration in Fort William will be well earned, before the drive home next morning.