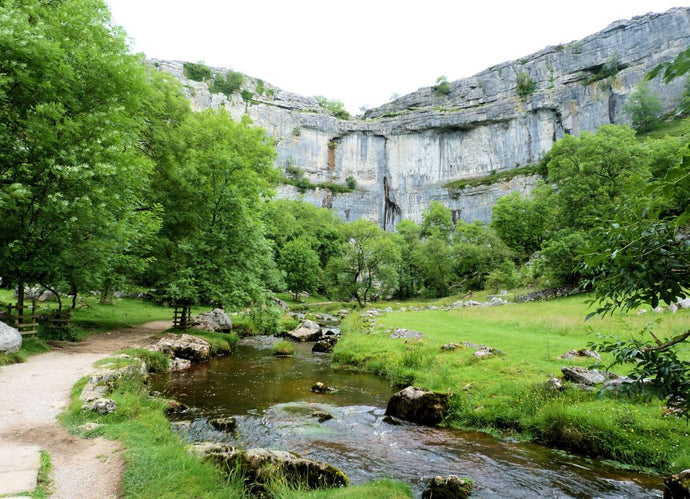 Malham Cove & Caves: Jan 27th-28th
Regular price £0.00 £75.00 Sale
Yorkshire Dales

Harry Potter Filming Location
Absolutely jam-packed with jaw-dropping scenery and natural wonder, as we will discover on these 2 incredible 10 mile walks!
The impressive site of Catrigg Force is a wonderful hidden jewel in the Yorkshire Dales crown and exploring the surrounding Victoria, Attermire and Jubilee Caves, makes this one of the most interesting days out in the these beautiful hills.
Of all the amazing sights to see in the National Park, Malham Cove is undoubtedly one of the most spectacular. A gigantic curved limestone cliff-face looming above a quaint village, standing at an imposing 260 feet, which has attracted & inspired keen admirers for hundreds of years.
SATURDAY:  Settle Waterfall & Caves
This beautiful 9 mile route starts from Settle Station, providing an epic experience visiting the Catrigg Force waterfall and the mysterious caves surrounding Settle.
The Details:
11:30am meet; prompt 11:45am start.
Outside the Old Naked Man cafe, 2 Market Square, Settle, BD24 9ED.
Approximately 10miles.
Duration 5+hrs walking. 


 SUNDAY: Malham Cove, Janet's Foss and Gordale Scar:
The Details:
9:00am meet; prompt 9:15am start.
Outside the

 The Bucks Inn, Cove rd, Malham, BD23 4DA

.
Approximately 10miles.
Duration 5+hrs.
Perhaps most famed for the iconic limestone pavement which sits atop of the Cove (as seen in Harry Potter). Malham is also home to several more spectacular geological formations – namely Gordale Scar & Janet's Foss .
While having already been a well-established rambling hotspot for centuries, Malham Cove exploded in popularity even more after it featured in Harry Potter and the Deathly Hallows in 2010.
Used as a pivotal filming location for the movie, the wizarding trio of Harry, Hermoine & Ron are seen camping on the iconic limestone pavement during their search for the horcruxes. An absolute must-visit destination for all Potter-heads.
Spanning roughly 300 metres-wide, acidic rainwater has gradually weathered out the characteristic cracks and gaps in the limestone through the years, giving the cove it's iconic pavement-like appearance.  All around are tremendous views towering over the Yorkshire Dales landscape.
Janet's Foss:
A small yet spectacular waterfall found along the trail around Malham, Janet's Foss has long been used as a natural sheep dip for local farmers and a popular paddling spot amongst wild swimmers. It's fabled that the tranquil falls derives its name from Jennet, Queen of the Fairies, who's said to reside in one of the small caves behind the waterfall. Foss is a Nordic word for waterfall, still used in Scandinavia today and often titled in England as 'force'.
Gordale Scar:
A gigantic limestone ravine with two epic waterfalls, it's speculated Gordale Scar could have been created by either water from melting glaciers or a cavern collapse. The stream cascading over the gorge is Gordale Beck, which flows onwards & over Janet's Foss before joining Malham Beck further downstream, forming the River Aire.
Important info:
A WHATSAPP group will be created to share info and photos on the day, so once signed up, please send an email to grant permission to be added to: info@getoutdoorsuk.org
Dogs are welcome, but are entirely the owner's responsibility and must have a lead and be under close control at all times.
If encountering livestock do not walk too close or get between a cow and calf. If threatened, let go of your dog so it can escape and reduce the risk to yourself.
Please keep to the indicated public rights of way and respect the landowner's property at all times.
There are often styles to negotiate on this type of walk.
Countryside walking can often include hills and uneven terrain. Our group ethos is to support everyone in group to achieve their maximum potential in terms of completing the route. As such, we endeavour to walk at a pace all participants are comfortable with. We apologise for any frustration caused to faster walkers.
Please consult your doctor if you are at all worried about your fitness and ability to take part.
Please inform the walk leaders, Get Outdoors, of any underlying health conditions that may affect your walking ability before signing up.
Required Form:
As well as booking your place above (using the "Add to Cart" button), in order to confirm your place, please complete the applicant health & safety form, so we know how best to look after you.
Kit List:
Please review the Kit List below to help you decide what you need for your adventure. The walk will go ahead even in strong wind/rain and only cancelled if conditions become what we consider too dangerous. Therefore, it is essential to be properly equipped! Tried and tested clothing only - don't want to find out something rubs once you've started the challenge and it's too late to change!
Rucksack - min 25 litres with cover.
Walking boots; broken in; NO trainers
Double layer walking socks.
Waterproof jacket & trousers.
Base layer top – breathable.
Warm fleece and spare fleece.
Walking trousers - NO jeans!
Multiple thin tops allowing temperature changes.
Post-challenge clothes.
3 litres of fluid per peak.
Basic First Aid kit & Sun cream.
Warm gloves, hat/balaclava.
Head torch with spare batteries.
Whistle for sounding the alarm.
Toiletries, towel.
Mobile phone & waterproof case
We only regret opportunities we don't take!
Fitness:

We have lots of other walks coming up that are great for training. They also provide an opportunity to ask questions about your upcoming challenge and meet other members of the team. So please browse our website www.getoutdoorsuk.org and come join us soon! We're adding new dates all the time. Taking part in build up events is also a great excuse to push your fundraising page if you are supporting a charity and update supporters about your challenge journey via social media, etc.

If you aren't able to join us for a walk, then great places to train with decent inclines include: The Lake District with 214 Wainwrights; Snowdonia; The Dark Peak District with Mam Tor, the Great Ridge and Kinder Scout; the Brecon Beacons & Black Mountains with Pen y Fan and Sugar Loaf Mountains. There's also the Malvern Hills, Chiltern Hills and Cotswolds, which have lots of hilly walks. There may be other hilly area near you.

The level of training needed depends totally on where you're starting from. Completion is dependent on a mixture of fitness, stamina and determination.

As a rough guide we recommend vigorous exercise at least 3 times per week for as long as possible prior to the event. Walk briskly on the hilliest routes you can find, such that you are regularly out of breath. Improve your stamina by including a long weekly walk, building up to 15 miles or more. Improve your cardio by walking your shorter walks as fast as you can.

Jogging uphill is a really good way to replicate the cardiovascular strain needed for ascents.

Strength and condition exercise, such as weight training or Pilates are beneficial for working on your leg power and core strength.  

Finally and most importantly, make sure you take it easy during the last week running up to the event. It takes more than 7 days for muscles to recover, rebuild and benefit from any exercise you do. All top athletes do it - 'Tapering off' is your opportunity to exercise lightly and make sure you do not arrive with a build up of lactic acid in your legs that WILL slow you down during the challenge.
Accommodation:
If you would like assistance finding accommodation during the event, please email: info@getoutdoorsuk.org with the following info:

1. Event & location
2. Dates of the nights you require
3. Single, Double or Twin room
4. Whether you are happy to share a room/property with other members of the group and if you would like to specify that person(s)
Future Walk Info:
Submit your email address below to receive information on future walks.
Join us for a hike in beautiful places like the Brecon Beacons, Cotswolds, Malverns, Chilterns, Peak District, Oxford...
Perfect way to start your training for a challenge like the 3 Peaks or simply to get out into the countryside, while being sociable.
Please "Like" the Get Outdoors Facebook Group for even more updates!