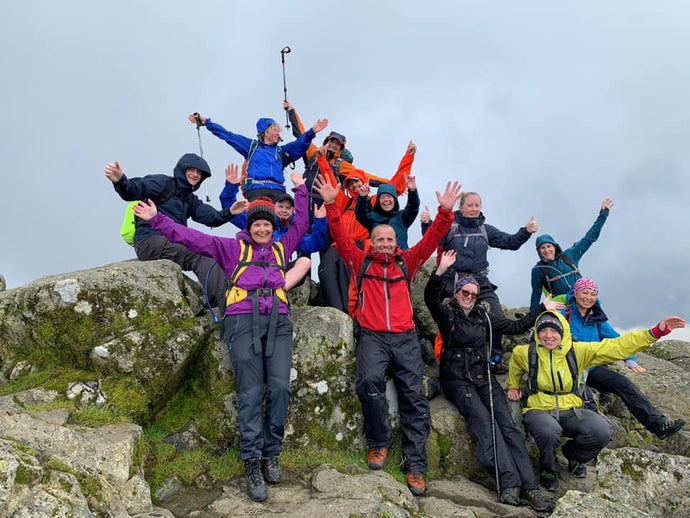 Pace 24Peaks in 24hrs: September 6-9th 2024
Regular price £99.00 £149.00 Sale
£149 booking deposit plus £250 final payment and £250 fundraising target

The Only Way to see The Lake District
3 incredible days walking in a stunning location! Taking in famous peaks including Helvellyn, Scafell Pike, Haystacks, Great Dodd, Great Gable and lots more!
Included in the Trip:
3 guided Lake District mountain days.

3 nights B&B accommodation.

Backup & transport arrangements.
It's no secret that the Lake District is one of the most beautiful places in England, filled with epic walks. Without doubt the best way to explore it's amazing landscape is by foot and this 3 day trek has most of it covered.
We ascend 24 of its best and highest peaks in a circuit encompassing most of the Lakes and providing breath-taking views and a perspective of this stunning National Park like no other! 
Having left our transport in Buttermere, with only our legs to carry us and our kit over what often feel like remote hills to reach each overnight accommodation and welcome pub meal. We spend nights at Borrowdale, Wasdale Head and Grasmere, finally finishing the route near Keswick.
Life begins at the end of your comfort zone... 
Day 1: 

Buttermere to Seathwaite
Red Pike      - 755m
High Stile     - 807m
High Crag    - 744m
Hay Stacks   - 597m
Grey Knotts  - 697m
Brandreth     - 715m
Green Gable - 801m
Great Gable  - 899m
Distance: 12.9 miles (17.5 miles flat equivalent)
Climb Rate: 128 m/mile
Total Climb: 1660 m 
Day 2:
Seathwaite

 to Grasmere
Scafell Pike   - 978m 
Great End     - 910m
Esk Pike       - 885m
Bow Fell       - 902m
Distance: 13.8 miles (17.9 miles flat equiv)
Climb Rate: 106 m/mile
Total Climb: 1465 m
Day 3: 

Grasmere to Threlkeld
Stone Arthur            - 503m
Great Rigg               - 766m
Fairfield                   - 873m
Dollywaggon Pike     - 858m
Nethermost Pike      - 891m
Helvellyn                 - 950m
Lower Man              - 925m
White Side               - 863m
Raise                       - 883m
Stybarrow Dodd       - 843m
Watson's Dodd        - 789m
Great Dodd              - 857m
Distance: 14.3 miles (18.8 miles flat equiv)
Climb Rate: 114 m/mile
Total Climb: 1635 m
Important info:
A WHATSAPP group will be created to share info and photos on the day. In signing up to the event you are agreeing to be added to this group, which will contain other participants. This is necessary so that details can be shared in the run up to the event, including last minute changes, reminders or cancellations.
Charity involvement: many of our walks are being run in partnership with charities. As such sign up information is shared with that nominated charity for the purpose of running the event and communicating its purpose.
Dogs are not permitted on this event, due to accommodation restrictions.
Please keep to the indicated public rights of way and respect the landowner's property at all times.
There are often styles to negotiate on this type of walk.
Countryside walking can often include hills and uneven terrain. Our group ethos is to support everyone in group to achieve their maximum potential in terms of completing the route. As such, we endeavour to walk at a pace all participants are comfortable with. We apologise if this causes any frustration to fitter walkers.
Please consult your doctor if you are at all worried about your fitness and ability to take part.
Please inform the walk leaders, Get Outdoors, of any underlying health conditions that may affect your walking ability before signing up. 
Required Form:
We need a few more details from everyone, so we know how best to look after you. Once you have booked your walk above, please follow this link and complete some simple questions ASAP: Applicant Information Form
Mountain Kit List:
Essential to be properly equipped
Tried and tested clothing only
Only pack items needed for walking
Rucksack - min 25 litres with cover.
Walking boots; broken in; NO trainers
Double layer walking socks.
Waterproof jacket & trousers.
Base layer top – breathable.
Warm fleece and spare fleece.
Walking trousers - NO jeans!
Multiple thin tops for temp regulation.
Post-challenge clothes.
3 litres of fluid per peak.
Basic First Aid kit & Sun cream.
Warm gloves, hat/balaclava.
Head torch with spare batteries.
Whistle for sounding the alarm.
Toiletries, towel.
Mobile phone & waterproof case
Weather:
Hill and mountain walking can be hazardous! Not being prepared for rapidly changing weather conditions can lead to over exposure or heat stroke. Layers are key, allowing you to easily adjust your level of warmth. We are likely to experience some nasty weather, so for your safe enjoyment please bring the items specified on the kit list.  
 
Training & Fitness:
This certainly is one heck of a challenge and the fitter you are the more enjoyable you will find it. There is still plenty of time to improve your fitness.
The level of training needed depends totally on where you are starting from. Completion of the challenge is dependent on a mixture of fitness, stamina and determination.
As a rough guide we recommend vigorous exercise at least 3 times per week for as long as you can prior to the event. Walk briskly on the hilliest routes you can find, such that you are regularly out of breath. Improve your stamina by including a long weekly walk, building up to 15 miles or more. Improve your cardio by walking your shorter walks as fast as you can.
Jogging uphill is a really good way to replicate the cardiovascular strain of walking up a steep mountain and a great way to pack in some intense last-minute training if you are feeling a bit behind.
Strength and condition exercise, such as weight training or Pilates are beneficial for working on your leg power and core strength.
You can't truly replicate the relentlessness of a steep mountain incline, so we fully recommend actually visiting some as part of your training! Great places to train with decent inclines include: The Lake District with 214 Wainwrights; Snowdonia has 14 Peaks over 3,000ft; The Dark Peak District with Mam Tor, the Great Ridge and Kinder Scout; the Brecon Beacons & Black Mountains with Pen y Fan and Sugar Loaf Mountains.
Finally and most importantly, make sure you take it easy during the last week running up to the event. All top athletes do it - 'Tapering off' is your opportunity to exercise lightly and make sure you do not arrive with a build up of lactic acid in your legs that will slow you down during the challenge.
Food & Drink:
Walkers are expected to provide all of their own food and drink during the trip. Get Outdoors do not supply any food. We will have regular stops to eat, drink and rest.

Please pack a substantial lunch as you will be walking for a long day. Also plenty of snacks and a minimum of 3 litres of water.
As with kit, make sure you have tried and tested anything you eat during the challenge - you do not know how your body might react to anything new. The last thing you want to do is test the unknown during the trip. E.g. BEWARE energy gels if you have not used them before!