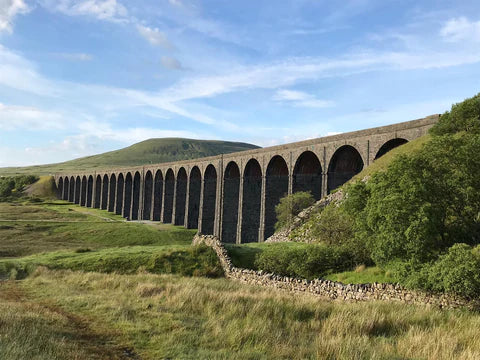 Yorkshire Three Peaks: July 14th
Regular price £0.00 £55.00 Sale
The 3 Highest Peaks in Yorkshire 
Ingleborough, Whernside, Pen-y-Ghent
Walking as one team we attempt to conquer the 3 spectacular fells of Whernside (736m), Ingleborough (723m) and Pen-y-Ghent (694m) that dominate the Dales skyline.
We will cover 39km and climb over 1700m within just 12 hours to return to Horton and successfully complete the challenge and enter the 'Three Peaks of Yorkshire Club'. 
Difficult roads often lead to beautiful destinations...
The Yorkshire 3 Peaks Route:
Anti-clockwise circular route starting and finishing in Horton-in-Ribblesdale.


Timetable:
06:30 Meet in The Yorkshire Dales National Park car park, Horton-in-Ribblesdale, BD24 0HG (£4.50 for the day) - if full there is more parking in the field car park on the other side of the bridge. There is a public toilet in the car park.
07:00 START Challenge (Anti-clockwise)
08:00 Summit Pen-y-Ghent
9:00 Refreshments at Ribblehead
12:00 Summit Whernside
13:00 Philpin Farm refreshments
14:30 Summit Ingleborough
18:30 Expected end of challenge
Weather:
Hill and mountain walking can be hazardous! Not being prepared for rapidly changing weather conditions can lead to over exposure or heat stroke. Layers are key, allowing you to easily adjust your level of warmth. We are likely to experience some nasty weather, so for your safe enjoyment please bring the items specified on the kit list.   
Food & Drink:
Walkers are expected to bring all of the food they need for the walk. 

As with kit, make sure you have tried and tested anything you eat during the walks, as you do not know how your body might react.

You are going to be walking for 12 hours. You will consume body fat reserves, expel water and salts that need replacing to prevent muscle cramps, dehydration and fatigue. Hydration is the most important aspect of nutrition. It is essential to take on water in regular, small amounts throughout the walk. It is easy to underestimate how much you need and suffer dehydration, particularly in hot weather.  Each walker should carry a minimum of 3 litres of fluid; water and sugary drinks. It is important to bring plenty of high energy food and snacks as well as something substantial like a sandwich for lunch. You need to provide your own food and water for the duration of the Challenge. We expect to have several refreshment stops on the route, but best to prepare for the unexpected!
Fitness:
The level of training needed depends totally on what level of fitness you are starting from. Completion is dependent on a mixture of fitness, stamina and determination.

As a rough guide, we recommend vigorous exercise at least 3 times per week for as long as possible in the build up to the event. Walk briskly on the hilliest routes you can find, such that you are regularly out of breath. Improve your stamina by including a long weekly walk, building up to at least 15 miles or more. Improve your cardio by walking your shorter walks as fast as you can.

Jogging uphill is a really good way to improve cardiovascular fitness.

Strength and condition exercise, such as weight training or Pilates are beneficial for working on your leg power and core strength.  

The fitter you are the more enjoyable the challenge. Give yourself plenty of time to build up by joining us for some training soon. Get Outdoors has lots of walks in the diary that are great for training, which also provide an opportunity to ask questions about your upcoming event and meet other members of the team. So please browse this website and come join us soon. We are always adding new dates. Taking part in build up events is also a great excuse to push fundraising pages and update supporters about your challenge journey.
Life begins at the end of your comfort zone!